Trunk Show!
An Entertaining, Informative Event Showcasing Tia's Techniques Influences, and Inspirations
Her most popular event, Tia Curtis conducts a warm, light-hearted 45-minute presentation showcasing her quilting journey. Tia has lived all over the world, and having been influenced by so many different cultures along the way it's such a treat to connect with Tia's view of quilting. Her love of Welsh-Style quilting and respect for quilt masters like Susan McCord and Gwen Marston is evident in her work. The Trunk Show includes her process for creating one-of-a-kind quilts that range from traditional to whole-cloth to ultra modern pieces. Based on availability of newly quilted works, expect at minimum of 20 custom quilts proudly displayed in the presentation. All designs are Tia's original work and personally quilted in her home studio.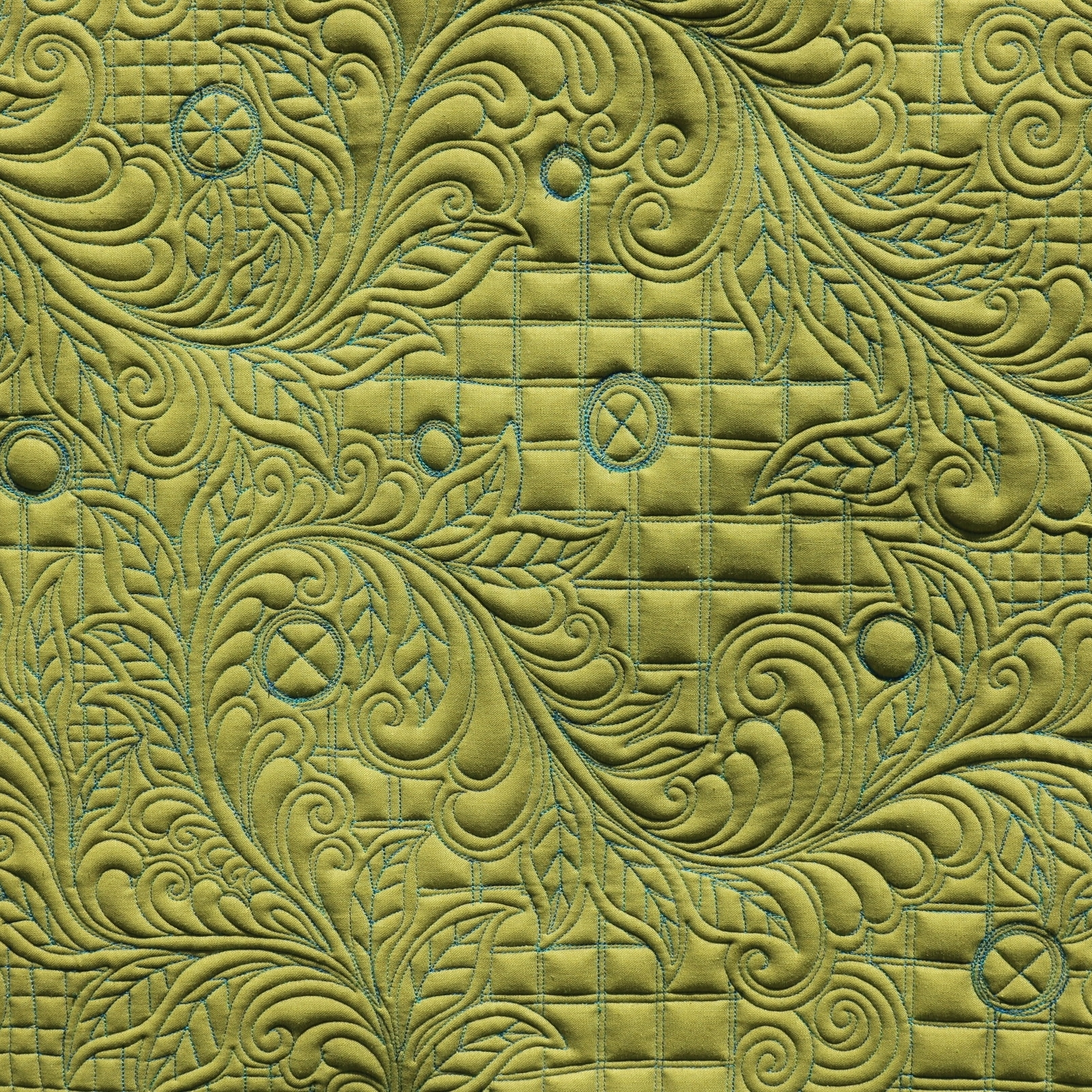 Feathers, Lines and Swirls
"The Bones
of
Modern
Custom Quilting"
Join Tia Curtis as she teaches you how to quilt some of her all time favorite free-hand quilting designs on either the domestic sewing machine or long arm. Tia will demonstrate the flexibility and usefulness of three basic designs (Feathers, Lines, and Swirls). Each design showcased progresses in difficulty, so the techniques presented carefully considers participant expertise across the range of novice, intermediate and expert quilters. Tia will show various quilt marking techniques and ruler work to inspire you to integrate something new on your next quilt adventure. After this lesson, backgrounds, borders and sashing will seem to almost quilt themselves. You will leave class with a treasure trove of new designs and a heavily quilted sample piece to reference as you continue your quilting at home.
Welsh Quilting Styles And Techniques
For Today's Quilts
Explore the beauty of Welsh Quilting with Tia Curtis. She will give a brief history of Welsh quilting including both hand quilted and machine quilted pieces. She will then break down the timeless designs so that they are easily approachable for any quilter. She will demonstrate how simple marking, and the use of acrylic templates make this style quilting a breeze yet appear complicated and exceptionally detailed. Students will leave class with marked and quilted samples and a handout filled with mix and match designs to try out on their next quilt.
Free-Motion Modern Quilting on the Domestic
Sewing Machine
Are you ready to make the jump to quilting your own quilts? Have you mastered the stipple and are ready to move on to something else? If you are please join Tia Curtis for a day of quilting! Tia will show you how to turn common doodles into wonderful quilting designs that will make any quilt come alive with texture.
Tia will provide you with a myriad of designs to incorporate into your quilting repertoire, and give you hands on instruction and guidance while practicing quilt designs on the domestic sewing machine.
Quilted Zipper Bags
using the
Domestic Sewing Machine
This fun class covers the basics of free motion quilting, zipper installation and bag making. Perfect for any quilter who has too many orphan blocks laying around, anyone wanting to explore more features of their sewing machine, or anyone who needs quick gifts to shower upon their loved ones. We will explore creating different shape and sized bags. Each student will leave with at least 2 unique zipper bags.
Quilting Feathers and Vines*
Have you seen the gorgeous quilting on heirloom quilts and been amazed by the beautiful feathers and vines quilted with such perfection? Are you ready to try feathers and vines for yourself? Come join Tia Curtis as she unlocks the mysteries behind these wonderful quilting elements. In this class you will learn several techniques to make fabulous feathers and vines on your next quilt. You will learn tiny feathers for sashing and large luscious feathers to fill up wide outer borders as well as wreaths, and a couple blocks. You will leave class with 6 samples of feathers and vines as well as a handout filled with more examples.
* This class can be either on the domestic sewing machine or on the Long Arm
Rope Bowls:
Simple Best Practices for a Fun, Relaxing Project
Are you ready to find some Zen in this wild, hectic world? Come join Tia Curtis as she teaches you some of the best techniques for making Rope Bowls, Baskets and throw rugs. She will demonstrate several styles of bowls and how to finish them. As well as some smart shortcuts. Any experience level is welcome for this simple project that can pack a sophisticated punch. Get lost in a project that is both instant gratification and functional. You will leave class with at least one finished bowl. I can provide a kit if you don't feel like cutting strips or can't find the rope. I do need to know how many kits to provide.